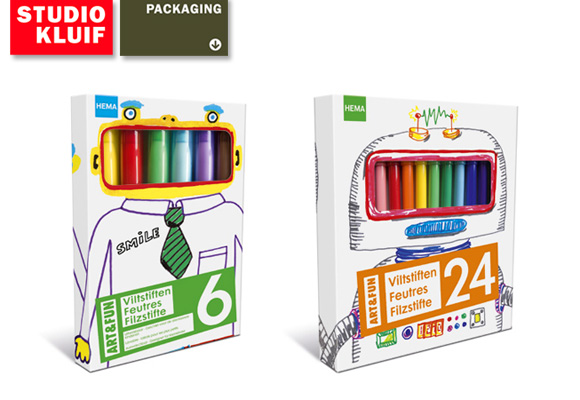 STUDIO KLUIF for HEMA // fun felt-tip pens for kids
Hema est un distributeur international vendant sa propre marque dans plus de 400 boutiques aux Pays-bas, Belgique, Luxembourg et Allemagne. Depuis 2002, Studio Kluif travaille sur des dizaines de lignes de produits et, entre autres, des jouets pour enfants. Comme Randy Ludacer de BoxVox, nous aimons vraiment le concept selon lequel le produit contenu est utilisé pour illustrer l'extérieur du packaging.
Hema is an international retailer that sells its own brand in more than 400 shops in The Netherlands, Belgium, Luxembourg and Germany. Since 2002, Studio Kluif has worked on dozens of product lines and, among others, toys for kids. As Randy Ludacer from BoxVox, we really like the concept according to which the product contained within is used to illustrate the outside of the packaging.